Palm Beach County Licensed Plumbers
There are no people better qualified to handle the plumbing needs we all have in our houses other than professional licensed plumbers. There are always DIY methods to solve simple and moderately difficult plumbing problems in residential or commercial spaces. But services from licensed plumbers won't just do the job significantly better; they can also detect more problems previously unseen, provide more products and procedures to strengthen plumbing structures, and reduce the risk of future problems caused by improper plumbing practices. Even though it will cost a little more, hiring licensed plumbers will always get the best results.
Payless Plumbing is a top-notch plumbing company that has been serving Palm Beach County for more than 25 years and counting. We have been providing full sets of services for all kinds of plumbing operations for both residential and commercial clients. We deliver these services fast and of high-quality for the friendliest prices in the market. We can do all these things primarily because of our elite licensed plumbers that have been seasoned for years. We know how important it is that our plumbers not just have the right legal standing when it comes to their work, but also that they have the proper training and experience to back it up. So with any kind of plumbing situation, you know you can trust Payless Plumbing. We do all the plumbing, so you don't have to.
Call Payless Plumbing today at (754) 226-1588 for your Free Consultation!
What does it mean to be a licensed plumber?
Having a legal license to do something very specialized like plumbing may sound impressive. But what does having a plumbing license actually mean?
The legal permission and regulations to perform professional plumbing operations in America depend on the state. In Florida, aspiring plumbers must satisfy either one of the two ways to get a license:
1. Certified plumbing contractor's license – This license allows plumbers to do business in any location in the state of Florida.
2. Registered plumbing contractor's license – Issued by localities, this license will enable plumbers to do business only in the locale they're registered in.
Plumbing businesses and contractors are required to have the statewide certified plumbing contractor's licenses. A plumber in Florida who works without a license, if caught red-handed, is at the risk of getting sanctioned with jail time for ten years with a $10,000 fine.
Requirements
The main requirements to qualify for either one of the licenses are (1) passing the exam to test the capabilities of the plumber and (2) insurance to cover unwanted property damages. But since our company plumbers have certified licenses, let's focus on that.
Florida's Department of Business and Professional Regulation – Bureau of Education & Testing lists the following requirements for a certified plumbing contractor's license. They assure that licensed plumbers don't just have enough intellectual capacity, but also moral and financial responsibilities.
1. A passing score on every part of the Florida State Construction examination
2. Age of at least 18 years
3. Satisfying educational/experience requirements
4. Good moral character.
5. Payment of fees
6. Worker's compensation coverage
7. Financial responsibility
Exam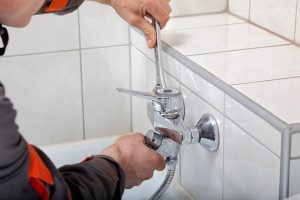 The exam for a plumbing license in Florida has two divisions, one on business and finance, contract administration, and project management and another one that is more on the technical aspect of construction, including plumbing. The second division covers an extensive range of skills, including glass and glazing, irrigation, residential and commercial pools, and spas, and even roofs and gas lines. Remember that plumbers must pass all these divisions to get the appropriate license.
Insurance
Even though one of the reasons why plumbers are hired is to lessen the risks of construction accidents significantly, unwanted events can still happen in the field. This is why licensed plumbers need to have a contractor's liability and property damage insurance. As a result, insurance ensures that people can trust licensed plumbers more, for they will surely have protection against all kinds of accidents in their work.
Trust Payless Plumbing's Licensed Plumbers!
Our Palm Beach County, FL company guarantees that the people we send for you to meet for plumbing services are a hundred percent licensed plumbers that have had years of experience in the field. As proven by state-standardized tests and property damage insurance, we provide nothing less than high-quality, fast, and industry-standard plumbing services. Whether it's new building construction, amenity installation, or repair and maintenance, we can handle it with precision, excellence, and commitment. We can't wait to be your partner!
Free Consultation
So what are you waiting for? Whatever plumbing needs you may have at home or in the office, we're more than qualified to help you out. All we need is for you to tell us your situation, and we'll handle the rest. So tell us your plumbing needs today. It all starts with your call!
Call Payless Plumbing today at (754) 226-1588 for your Free Consultation with a Licensed Plumber!